Engine Cooling Fan

WARNING:
WHEN WORKING IN THE ENGINE COMPARTMENT, STAY CLEAR OF THE FAN. BECAUSE IT IS ELECTRIC AND TEMPERATURE SENSITIVE, IT CAN START AT ANY TIME IF THE IGNITION IS ON.

The engine cooling fan is an electro-drive type. Its operation depends upon engine temperature and ignition switch position. If engine coolant temperature reaches 97°C (207°F) and the ignition switch is in the ON position, the fan motor circuit is completed. Because it cannot operate unless the ignition switch is ON, the fan does not operate after engine shutdown.

The circuit controlling the fan contains a temperature-sensitive cooling fan switch and relay. The switch is threaded into the thermostat housing where it senses engine coolant temperature. The cooling fan relay is located in the left front corner of the engine compartment, just in front of the radiator coolant reservoir. Circuit protection is provided by a 20 amp fuse labeled COOLING FAN in the fuse panel to the left of the steering column.

When engine temperature is below 90°C (194°F), the cooling fan switch is closed and the relay contacts are held open by the magnetism produced in the relay coil. When the fan switch is opened by higher engine temperatures, the coil circuit is opened, allowing spring pressure to close the relay contacts.

If the vehicle is equipped with air-conditioning, an additional relay is installed in the circuit. The A/C relay bypasses the engine temperature portion of the circuit. The bypass circuit allows the engine cooling fan to operate whenever the air-conditioning switch is engaged.

For a more complete description of the A/C bypass circuit, refer to «Section 12-03A».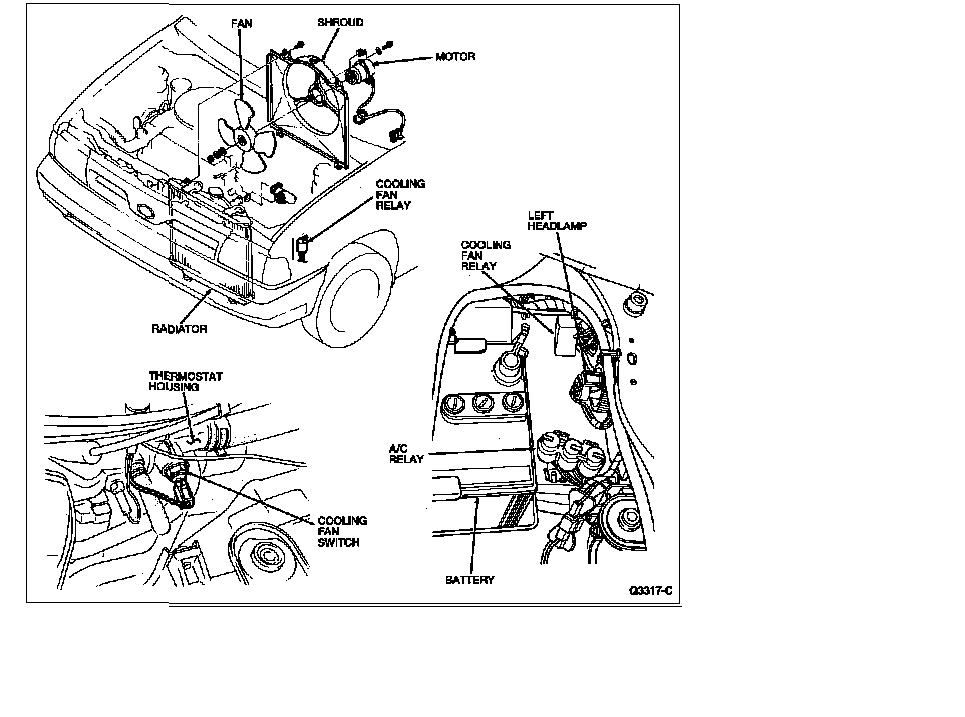 *Copyright © 2004 Ford Festiva Com-All Rights Reserved
*except data and images courtesy of Ford