Cam Waugh's Turbo Festiva
Cam Waugh certainly must be proud of all the work he's put into what I must say is the finest Festiva to grace the pages of FF.Com (at time this page was created). More Festivas done like this would be nice to see here. This 1990 Festiva was purchased for 250.00 and shows that with some creativity and effort, you end up with a very nice ride.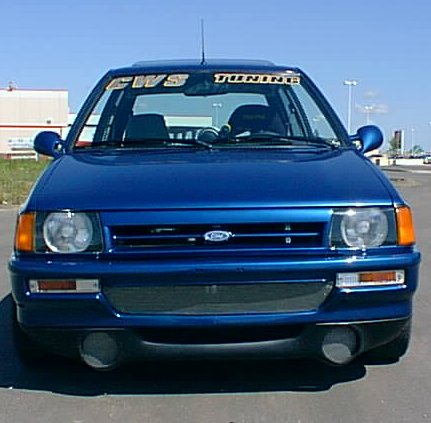 Modifications abound on this 1990 Fastiva (a truly worthy title as Cam's car reaps the rewards of a 1.6 Mazda Turbo engine swap). The original Festiva headlamps were ditched in favor of a round headlamp tucked away behind a clear lexan lens cover. I really like the look.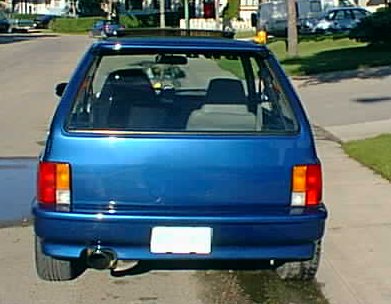 No, those are not Festiva bumper covers, they are actually sourced from a 91 Honda Civic and have been shortened and narrowed. The lower front spoiler is from a 96 Ford Ranger Splash pickup and has been modified to fit. At the rear, with the license plate now moved, the liftgate was smoothed over and looks sharp!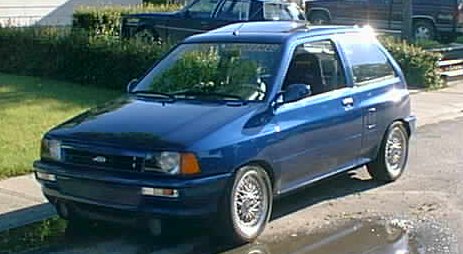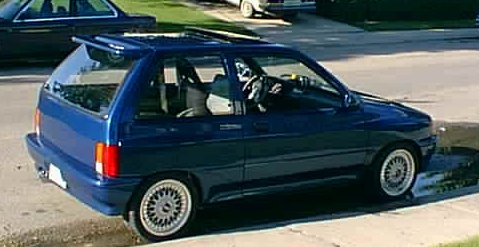 Other external features are custom sideview mirrors, a rear hatch spoiler (modified), center-mount antenna, sunroof, and a low-profile tire/wheel combo.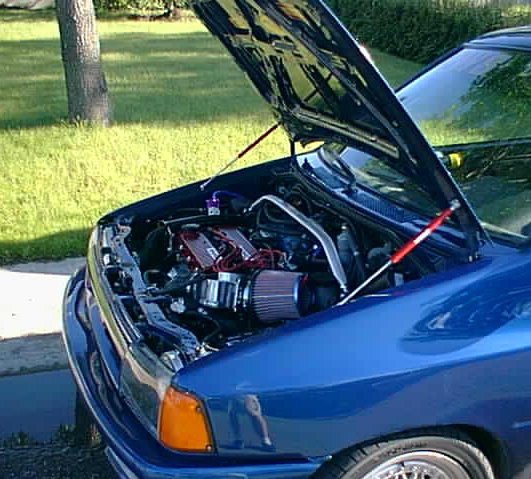 Gas struts are a classic mod, not to mention they look great.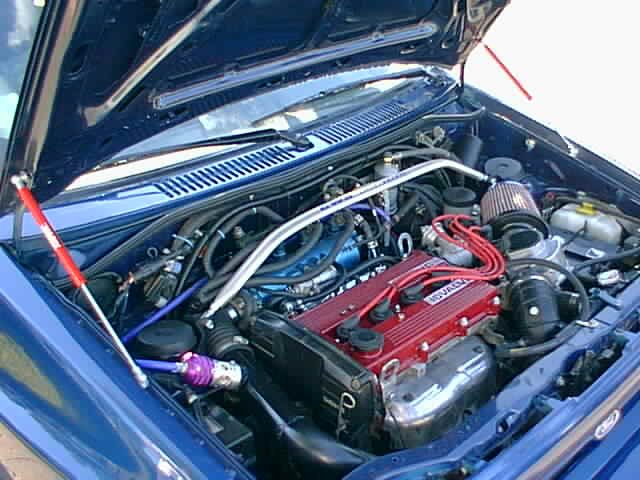 The heart and soul of this Fastiva is the B6T sourced from a 1988 Mazda 323 GT-X. And it isn't just stock either, an upgraded (larger) Toyota CT-26 turbo, intercooler, ported and shortened Miata intake manifold which is fitted with 4 extra fuel injectors controlled by an SDS EIC. The intercooler is sourced from an Toyota MR-2. Cam uses the original B6T wiring and ecu. A custom 2.5" exhaust routes the spent gasses through a Tanabe G-Power Medallion muffler (original application was for a 1998 Honda Prelude).
Getting this power sent through the stock Festiva transaxle was achieved by using an ACT four-puck racing clutch designed for a Sukuki Swift GTi 1.3 DOHC application (these share a common input spline count and diameter as Festiva). This was achieved by re-drilling the flywheel bolt pattern for the pressure plate and minor clearancing of the transaxle clutch housing.
Suspension duties are handled by modified Boge Turbo Gas VW GTi VR6 struts/shocks which use the same application's lowering springs.
The result of all this hard work is a Festiva that scampers down the quarter-mile at 13.2 sec/106mph (best time) and looks great doing so.
Cam's Festiva has also been mentioned in several magazines, most notable was a full feature cover story by Sport Comapct Car.
From Turbo magazine, September 2001 issue: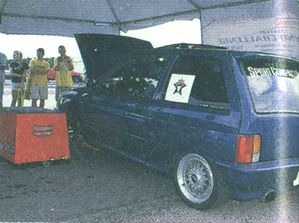 Cam Waugh's Festiva makes it's second magazine appearance while at Houston Raceway Park. Caption below the small picture read "Cam Waugh's Fiesta with Mazda 323 GTX power on the Dynapack". Too bad Turbo's editors were asleep at the switch.
Cam sells several components for the B6T/Festiva swap. See his website CWS Tuning for more details.
Author: Rich Norman.
Pictures Submiited by: Cam Waugh
*Copyright © 2003 Ford Festiva Com-All Rights Reserved
*Except- Text courtesy of Rich Norman. Images courtesy of Cam Waugh